Wine and Dine Aboard the Napa Valley Wine Train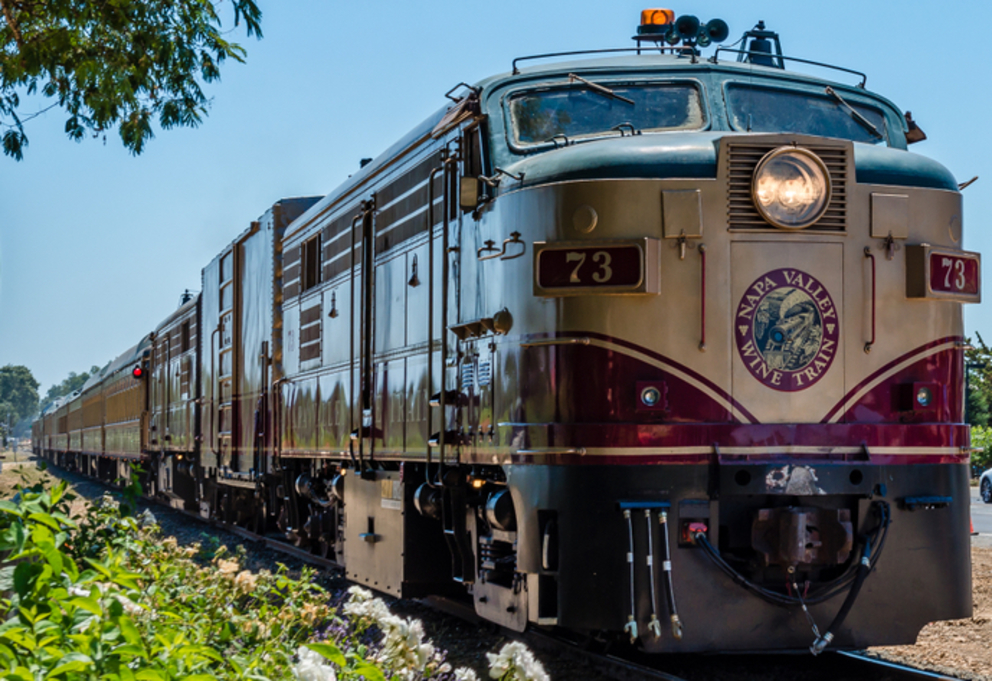 If you're anywhere in the Napa Valley, it's likely you've spotted the beautiful burgundy and gold vintage railroad cars sweeping happy wine-drinking riders along. And you may be wondering, what is it? Can you join in on the fun? Where to begin? We've got you covered. Here is your ultimate guide to the Napa Valley Wine Train.
What is the Napa Valley Wine Train?
Travel the valley in luxury while sipping on the finest local wine. Sit back, relax, and let the train whisk you away to popular wineries while enjoying a multi-course meal and stunning panoramic wine country views. Begin your 36-mile round-trip journey from downtown Napa and voyage north alongside the picturesque Highway 29. Travel through the quaint towns of Oak Knoll, Yountville, Oakville, and Rutherford before reaching the charming town of St. Helena, home to some of the oldest wineries in the Napa Valley.
The wine train allows you to relax comfortably while you wine and dine, but don't let that stop you from exploring this historic train. After an extensive restoration of the old steel cars from the early 20th century, the Napa Valley Wine Train kept the spirit of sophisticated rail travel alive. Pay particular attention to the mahogany paneling, brass accents, etched glass partitions, and velveteen furnishings. Visit the Cabernet Sauvignon or Chardonnay Lounge cars, complete with oversized plush chairs, an observation deck, and the car's original red glass windows.
Find the Tour Right For You
The Napa Valley Wine Train offers numerous packages, from lunch and dinner tours to a monthly Murder Mystery dinner. Book the 1952 Champagne Vista Dome for panoramic views, a welcome taste of sparkling wine, and an elegant meal in the two-story rail car with luxury dining upstairs and a kitchen below. Hop off the train when you opt for one of the winery packages, such as the Ambassador Winery Tour. The lunchtime outing includes a multi-course meal and a 1-hr tour and tasting at both Raymond Vineyards and Charles Krug, California's first tasting room.
Are you traveling to the Napa Valley for a special holiday? The Wine Train has a themed ride for almost all of them. Indulge in a Thanksgiving-themed feast, get spooked during the Halloween Spirit Train, take a ride to the 'North Pole' on the Santa Train, or book a romantic Valentine's Day tour complete with a strolling violinist.
One thing is certain, no matter which Wine Train excursion you book, you will be dining on exquisite culinary delights prepared in their onboard kitchens. Enjoy multi-course gourmet meals with fresh local ingredients. Expect a California cuisine inspired menu, like fresh Yellowfin tuna tartar, pan-seared Pacific halibut, and roasted beef tenderloin. The Wine Train will also happily accommodate those with any food allergies.
Ready to Sign Up?
Reserve your Napa Valley Wine Train experience. Board the Wine Train at the McKinstry Street Station in downtown Napa, right next to the Rail Arts District. Make sure to take notice of several of the murals outside your window once your ride begins! Visit Wine Train's retail wine shop, and check out their extensive bottle collection of wines from around the Napa Valley. Browse both famous brands and small boutique wines from many of the wineries and vineyards you'll pass by on your journey.
--
The Napa Valley Wine Train is just one of the ways to explore the Napa Valley on wheels. Let the Napa Winery Inn help plan your extraordinary wine country getaway. Check out our current special offers and begin building your dream vacation today.