Ways to Explore the Napa Valley on Wheels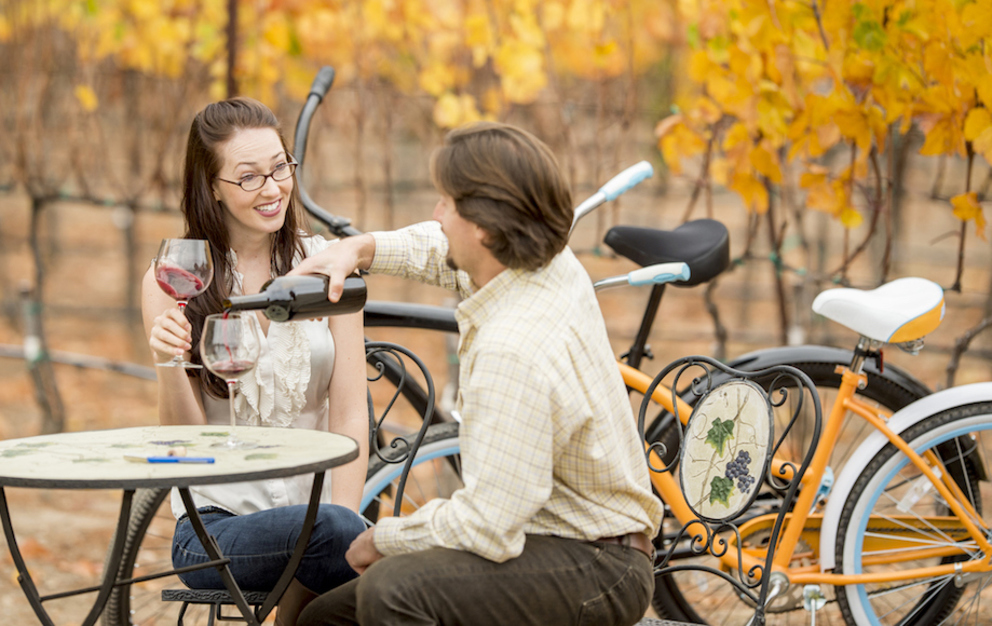 From cruising alongside the Napa River on a Segway to traveling to some of the most historic wineries via the Wine Train, there are numerous opportunities to explore the Napa Valley. We've gathered a list of some of the best ways to see wine country on wheels, all of which are sure to be informative, fun, and provide you with insights for a memorable Napa Valley vacation.
Travel the Napa Valley by Car
Rent a car to travel north along the scenic Silverado Trail. Head to downtown Napa for the most rental options and choose from Hertz, Budget Car Rental, or Enterprise Rent-A-Car. For something special, check out Vintage Auto Rentals for a chance to cruise the valley in style with a Lamborghini Gallardo, Aston Martin, or 1962 Rolls Royce.
For short drives, we recommend renting a Lyft or other peer-to-peer ridesharing network. These rides are usually cheaper than a taxi service and you are paired with a local who may give you insider wine country tips and tricks. If you are planning a daylong winery hop, consider hiring an UberWINE car. Your driver will pick you up from the Napa Winery Inn and chauffeur you to wineries of your choice. Save the hassle of calling a car in between stops, an UberWINE driver stays with you the entire day.
Tour on Two Wheels
Is it even a vacation if you don't get on a Segway? Segway tours are a must for any vacation goer looking for a fun way to explore locally. SegYourWay Napa Valley Tours has many options to choose from in Napa. Try the Beyond Wine Tour and learn about historic Old Town, Downtown Napa, and the Oxbow District. For a glimpse of Napa's scenic beauty, try the Napa Wetlands Tour and glide along the Napa River to observe the native flora and fauna. To explore outside of the town of Napa, check out their Yountville and Calistoga Segway tour options.
Enjoy a half-day ride through Napa on a bike tour. Visit two local wineries, get a work out in, get up close to the vineyards, and finish early enough to make dinner plans. Or sightsee with ease and still feel the wind through your hair by renting an electric bike from Napa Valley Velo.
Enjoy the Ride on a Large Group Tour
If you want the chance to sit back and let others plan your wine country experience, opt for one of the Napa Valley's large group tour options. Hop on a Napa Valley Wine Trolley replica California street cable car to explore four of the lower valley's premium wineries in Napa, Yountville, Oakville, and Rutherford. The trolley will pick you up from the Napa Winery Inn and a picnic lunch is included. Explore the northern half of the valley with a scenic ride up Highway 29 another day.
Take a journey on the Napa Valley Wine Train for exclusive tours and in-depth tastings at renowned wineries. Ride in a restyled Vintage Pullman rail car through the valley and enjoy a gourmet four-course lunch along the way on the wine train's Legacy Tour. Visit the valley's most famous and historic wineries, including Robert Mondavi, Charles Krug, and V. Sattui.
For a quieter experience, book a group bus tour with Platypus Wine Tours. Platypus offers all of the same amenities as any group tour, but includes visits only to charming, family-owned wineries that are off the beaten path. Avoid the crowds at these lesser-known wineries while you listen to stories and learn tidbits of local history, culture, and winemaking.
After a Day of Travel, Retreat to the Napa Winery Inn
There are plenty of adventures to be had within walking distance of the Napa Winery Inn. Explore nearby world-class wineries, restaurants, and attractions with our handy Local Guide. Book your Napa Valley getaway now with the Napa Winery Inn and take advantage of our limited time Summer Sleepover sale. Enjoy affordable and comfortable accommodations close to the sites and amenities of downtown.