5 of the Best Wine Caves in the Napa Valley
November 28th, 2018
Drink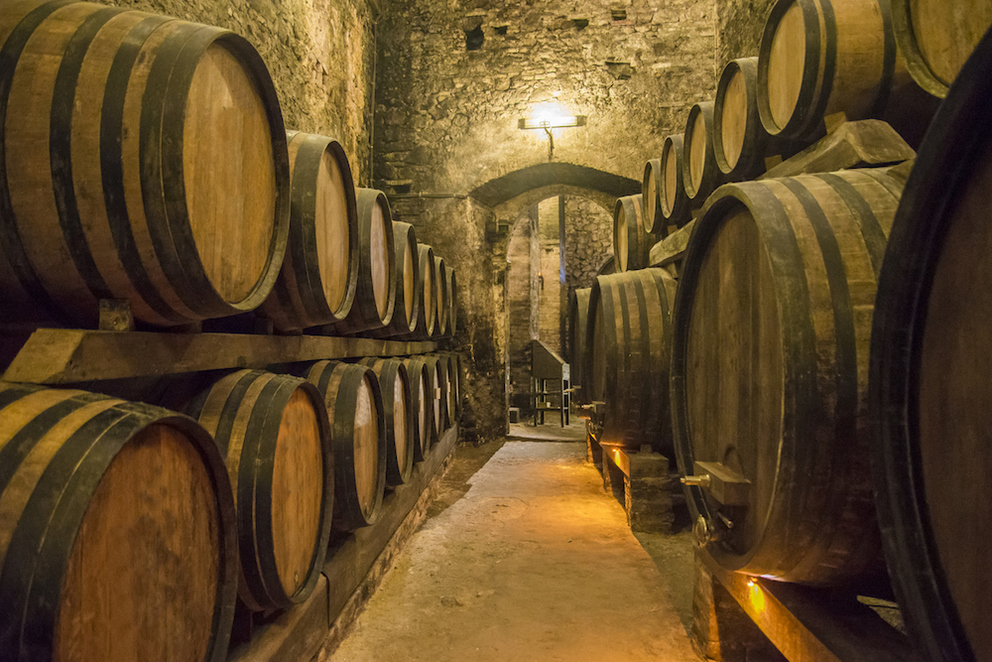 The Napa Valley's beauty is vast, with rolling hills, sprawling vineyards, and picturesque wineries scattered along the hillside. But there is a whole underground that often goes unnoticed when traveling through wine country. Cave systems branch out in underground mazes that can be as exquisite as their tasting rooms overhead. The Napa Valley's wine caves are some of the grandest in the world. Here are five not to be missed.
Del Dotto Historic Winery and Caves
The caves at Del Dotto may not be anything spectacular to look at, but they are some of the oldest in the entire Napa Valley. The property was one of the Napa Valley's first wineries, dating back to 1885. Visit this Napa winery for a chance to try their cave-aged wines, which the Del Dotto family swears are more voluptuous and opulent than any aged in a modern facility. Sign up for the Cave Experience and Barrel Tasting tour which includes a welcome wine and 6-8 tastings directly from the barrel, followed by a selection of cheese, house-made salami, pizza, and dark chocolate. 1055 Atlas Peak Rd, Napa
Jarvis Estate
Jarvis Estate's entire winemaking facility is contained within their 45,000 square feet of caves - the first of its kind in the country. The seemingly endless underground chambers preserve the unmarred beauty of the Vaca Mountains above. The cast bronze doors, brass wall sconces, arched alcoves, and fiber optic chandeliers are gorgeous, but have nothing on the underground waterfall. Jarvis Estate capitalizes on the natural underground water source as a way of maintaining a humidity level ideal for barrel aging. 2970 Monticello Rd, Napa
HALL Wines (Rutherford location)
The main feature of HALL Wine Rutherford's caves is the beautiful underground tasting room adorned with Donald Lipski's "Chilean Red" chandelier. The swarovski chandelier looks like a tree growing upside down from the ceiling! Also take note of the various artworks from Hall's personal collection and the main tunnel that is finished with Austrian brick and limestone dating back to the Hapsburg Empire. Take HALL's intimate tour and tasting that pairs small bites by local chefs with their Estate wines. 56 Auberge Rd, Rutherford
Schramsberg Vineyards
Visit this 19th century Victorian mansion for a journey back in time. Established in 1862, Schramsberg has one of Napa's oldest wine caves. Go underground and explore the 125-year-old cave with a tour and seated tasting of six of their sparkling wines. Upgrade to a Reserve Wines and Cheese Pairing to taste five of their limited production sparkling and still wines paired with select gourmet cheeses. 1400 Schramsberg Rd, Calistoga
Pope Valley Winery
Beginning in 1889, this historic 1,200 sq ft. cave took roughly eight years to dig by hand into the Pope Valley hillside. This charming winery is off the beaten path, but is worth the visit. Check out the original hand-hewn California redwood beams. The cave sits at the bottom of the three-story gravitational flow winery - an architect's site to behold. Just like in the 1800's, Pope Valley continues to barrel age their wines in the historic cave. Reserve an intimate Reserve Cave Tasting for four specialty wines and a barrel tasting. 6613 Pope Valley Rd, Pope Valley
All of these wine cave tours require reservations in advance. Secure your spot today for the opportunity to visit the Napa Valley's best wine caves.
Ready to venture underground? Let the Napa Winery Inn be your home base as you explore wine country's many caves. Check out our handy Local Guide for more Napa destinations and view our Special Offers to begin planning your getaway today.