5 Dog-Friendly Restaurants in Downtown Napa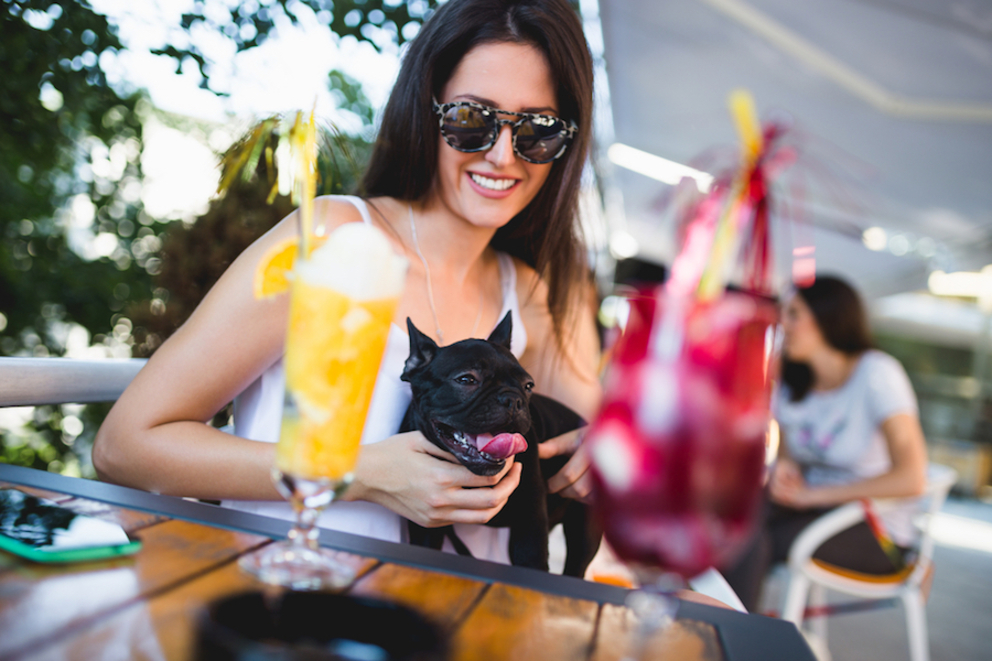 Downtown Napa is a must-visit destination on your Napa Valley vacation. The town at the southern point of Napa Valley has undergone a glamorous renovation as of late. Follow the Napa River on the riverfront promenade, spend hours perusing the Oxbow Market, and take in the local cuisine with your canine-companion in this world-class destination. Want to include your pup in your wine country vacation? Here are five dog-friendly restaurants in downtown Napa.
Angèle Restaurant and Bar
Located in a historic 1890s ship chandlery, this French country restaurant offers up refined bistro fare, wine, and specialty cocktails. Hang with your pooch out in their terrace seating, which is adjacent to the Napa river walk, and your dog will be immediately greeted with a bowl of water. Overhead heaters or cooling fans ensure you both stay comfortable on the patio, no matter the season. Make sure to order the rich and sweet French onion soup and treat yourself with the Banana Gratin for dessert. 540 Main St, Napa
Downtown Joe's Brewery and Restaurant
Overlook the Napa River on a dog-friendly patio at this pub and microbrewery. Downtown Joe's staff is very attentive to your four-legged friend and has even been known to slip a dog their personal plate of fries. Whether it is live music, karaoke, a Sunday DJ, or any holiday or local event, this lively restaurant always has something to celebrate. Although their burgers are a crowd favorite, their beer battered fish and chips are a standout. And of course, top off either entrée with an order of garlic fries. Try their house-brewed Magnolia Stout, a highly drinkable sweet stout with notes of coffee, chocolate, and maple oatmeal. 902 Main St, Napa
Kitchen Door
This local hotspot serves up eclectic fare, local craft beer, incredible wines, and great views with a relaxed vibe. This café is located within Oxbow Market, but your dogs are welcome on their deck. Try the KD burger with wine stewed onions, swiss cheese, housemade pickles, and secret sauce or their Korean Style Short Ribs with a soya glaze. 610 1st St in Oxbow Market, Napa
Napa General Store Restaurant
This breakfast and brunch spot has a gorgeous dog-friendly outdoor patio surrounded by beautiful trees and flowers and overlooks the Napa River. Their staff will make sure your dog has plenty of fresh water available and may even sneak them a treat. The restaurant sits at the back of a small retail shop, stocked with adorable Napa treasures and a variety of home décor items made from wine barrels. Their classic American menu is basic, but the food is delicious! Join them for breakfast and try the Napa scramble with farm-fresh eggs, mild goat cheese, fresh spinach, and applewood-smoked bacon. Brunch fare includes clam chowder, Tuscan pizza, fish tacos, and more. 540 Main St Ste 100 Napa
Ca' Momi Osteria
Sit outside with your dog at one of Ca' Momi Osteria's six pet-friendly outdoor tables. This vibrant industrial-chic eatery serves up delicious Italian cuisine plus cocktails, wine, and local craft beer. Start with one of their amazing cocktails and the burrata and prosciutto appetizer, followed by the poached rock octopus. Or go for the Boscaiola Pizza topped with wine forest mushrooms, porcini mushrooms, house-made Marin Sun Farms pork sausage, white truffle cream, organic mozzarella, and San Marzano dop tomatoes. 1141 1st St Napa
--
Want to savor the local Napa cuisine with your pup? These dog-friendly restaurants are all a short drive from the Napa Winery Inn, a boutique hotel in the heart of Napa Valley.